Eluna Auction #25471 Heimishe Food for Pesach. NIS 250
12/18/2018 4:46:04 PM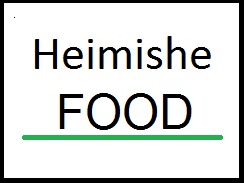 Prepared Foods for Shabbat and Chagim

Heimishe Food Catering offers classic dishes, delivered to your door in the Jerusalem Area. The user friendly web page with photos of each dish offers everything you need for the holiday, from the Seder Plate to the Compote. In just minutes you can order your entire Pesach menu. All foods (other than kniedelach) are gluten-free and nut-free unless marked otherwise.

See the Heimishe Food Pesach Menu and place your order online

Orders are accepted till March 20. Minimum 500 shekel order. Delivery fee.
Delivery in the Jerusalem area (Gush Etzion, Maale Adumim, Modiin, Beitar and Bet Shemesh).
Foods are delivered cold, some Items delivered frozen.

Click here for more about Heimishe Food

Heimishe Food
Pesach orders by delivery or pickup in Jerusalem
3 Haoferet St., Jerusalem
Tel: 054 287 5552
Weekday Hours: 9am - 5pm
Closed Friday
Kashrut: Glatt, Mehadrin.
Bid on this auction valued at NIS 250.
| | |
| --- | --- |
| First Bid | |
| Current Bid | |
| High Bidder | |
| Bid Increment | |
| Auction End Date | |
| Remaining Time | |
| | |
Copyright eLuna.com, All rights reserved.