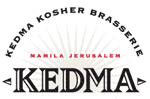 Dinner for two at Kedma, Jerusalem
For corned beef in Jerusalem look no further than Kedma in Mamilla. You heard us right. This meat restaurant is bringing classic deli flavors to the modern classic area of Mamilla. The menu has lovely dishes like beef carpaccio and Caesar salad with chicken. They also pride themselves on their entrecote steak aged at the restaurant.
Visit this beautifully stylized restaurant is on the 3rd floor of the Mamilla Center. From this vantage point you will enjoy a great view of the city.
Kedma
Mamilla Shopping mall, 3rd floor above GAP, Jerusalem
Tel: 02-5003737
Kashrut: Rabbanut Jerusalem