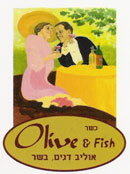 Dinner for 2 at Olive & Fish Restaurant, Jerusalem
An evening in Olive & Fish conjures up images of close friends, good conversation, and fine dining. If that sounds inviting to you, you're in the right place.

Olive & Fish is located directly across from the Inbal Hotel. The intimate space fills up rapidly at dinnertime, yet the lovely restaurant never looses its elegant, low-key ambiance. The décor is understated and stylish – just what you'd expect of a restaurant of this caliber.

Olive & Fish is primarily a fish restaurant. There are basic chicken and meat dishes offered, but fish is where the chef puts most of his energy and creativity.
Olive & Fish is a sophisticated yet unpretentious eatery, perfect for almost any occasion. Given its popularity, reservations are recommended.


Olive & Fish
2 Jabotinsky St, Jerusalem
Tel: 02 - 566 5020
Kashrut: Rabbanut Yerushalayim


Bid on a NIS 220 voucher at Olive & Fish Restaurant.