Eluna Auction #28777 Dinner for Two at Kedem, Yemenite Quarter, Tel Aviv
16/01/2021 07:55:53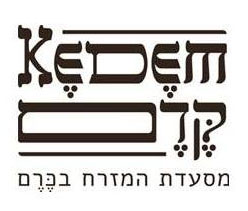 Dinner for Two at Kedem, Yemenite Quarter, Tel Aviv
Shanti! is a word for Kedem Restaurant in the Yemenite Quarter of Tel Aviv. This character-rich neighborhood in old Tel Aviv, not far from the Carmel Market, is a labyrinth of narrow cobbled streets. Parking spaces are almost non-existent and maneuvering the streets is a challenge, but the local color and the flavors compensate.

The menu is a mix of signature Yemenite dishes, some from the Morrocan tradition, and my companion was sure that the meat soup was exactly the recipe that his Hungarian mother used to make. There is a mix of vegetarian and meat dishes, and you can smell cooking around the block.
Kedem
28 Nachniel St, Kerem Hateimanim Tel Aviv
Telephone: 03-510 2555
Kashrut: Rabbanut Tel Aviv
Bid on a NIS 150 voucher at Kedem Restaurant.
| | |
| --- | --- |
| First Bid | |
| Current Bid | |
| High Bidder | |
| Bid Increment | |
| Auction End Date | |
| Remaining Time | |
| | |