Eluna Auction #29201 Dinner for Two at Shmulik Cohen, Tel Aviv
08/12/2021 21:19:26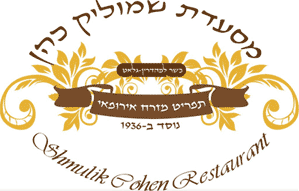 Dinner for Two at Shmulik Cohen, Tel Aviv

Shmulik Cohen's restaurant opened its doors nearly 8 decades ago. It continues in its original location on Tel Aviv's Herzl Street run by the original family. The menu has not changed much, with classic Eastern European cuisine reigning supreme, including Jewish penicillin: chicken soup with kreplach. Then there is herring and gefilte fish, schnitzel, cholent, kishke and goulash. Shabbes food all week.

Click here for more info

Shmulik Cohen
146 Herzl Street, Tel Aviv
Tel: 03-6810222
Kashrut: Rabbanut Tel Aviv - Glatt (Mehadrin.)
All meats Rav Machpud Badatz Yoreh Deah.
Duck meat Rabbanut Yerushalayim Mehadrin .
Vegetables Gush Katif.


Bid on a NIS 250 voucher at Shmulik Cohen Restaurant.
| | |
| --- | --- |
| First Bid | |
| Current Bid | |
| High Bidder | |
| Bid Increment | |
| Auction End Date | |
| Remaining Time | |
| | |