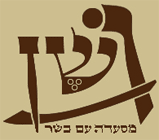 Dinner for two at Goshen, Tel Aviv
Goshen, on Nachalat Binyamin in the heart of Tel Aviv, is a unique culinary experience. Diners choose their cuts of meat from a display case, they are grilled and then served at the center of the table on personal grills.

The restaurant is decorated intimately and simply with earth tones and dark wood furniture. The meat cooler is positioned at the entrance to the restaurant to feature all the select cuts of aging meat. The kitchen is open with a large window that looks out into the restaurant.
Visit Goshen for quiet elegance, a pleasant atmosphere, and world class food.

For more on this restaurant
Goshen Restaurant
37 Nachalat Binyamin, Tel Aviv
Tel: 03-5600766
Kashrut: Rabbanut Tel Aviv
Bid on a NIS 300 voucher at Goshen Restaurant.