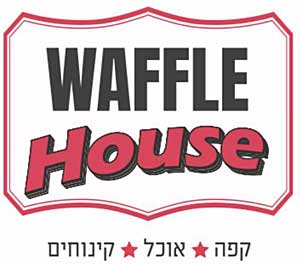 Dinner for Two at Waffle House
Waffle House restaurant in the Shaar Ha'ir mall, at the entrance to Beit Shemesh, is the place to go for all foods dairy and elaborate desserts. Warning! If you come for a meal you will absolutely have to top it off with a Waffle House specialty dessert.
Waffle House has a huge menu (in English) of dairy restaurant fare including a large number of breakfasts, pastas, pizzas, fish, and more. Breakfast is very popular, with eggs, salads, sauces, bread, plus. A Friday breakfast will keep you going till Kiddush. But the Waffle House calling card is their desserts. The menu boasts two or three pages of elaborate desserts with lots of cream, chocolate, sauces and more.
Click here for more info


Waffle House
6 Yigal Alon. Shaar Ha'ir Mall, Bet Shemesh
Tel: 02-940 1410
Kashrut: Mehadrin Beit Yosef
Bid on a NIS 175 voucher at Waffle House Restaurant.