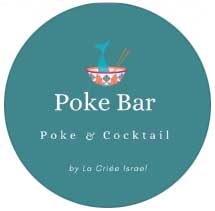 Dinner for Two at Poke Fish Bar
Poke Bar on Ahuza has expanded its menu and is now a full fish restaurant, the first in Raanana. Enjoy an excellent menu of fish dishes including starters, main courses, sinful desserts and cocktails.
The fish is sourced from the affiliated La Criee Israel fish shop with fresh fish deliveries every day. Our favorite dishes were the Salmon Pasticcio: balls of fish and rice on a tangy sauce. Folks who like their food with a spicy punch will enjoy the curry flavored sea bass with rice and vegetables. The Thai salad with salmon is more sweet than savory. We also tasted the tempura fish & chips which were hot, crispy and exactly the way we like them.
The dishes were all beautifully presented prepared by their professional in-house chef. Success!. This voucher can be used for pick up but cannot be used for take away orders.
Click here for more info


Poke Bar
71 Ahuza St., Raananam Tel: 09-866 8888
Kashrut: Rabbanut Raanana, parve
Bid on a NIS 250 voucher at Poke Fish Bar Restaurant.