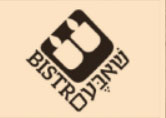 Take Away for Pesach

Shabbos Bisro offers a buffet of traditional Ashkenazi style take away foods every Friday for Shabbos.
Make sure you have just what you want for Pesach, when you order from the Pesach menu in advance. This is a soup-to-nuts menu, including the Seder plate.

Orders must be submitted by Thursday April 3, so there is no time to wait.


Minimum order: NIS 550. Minimum order for delivery: NIS 1000.
Delivery in Shaarei Hessed, Rehavia and the area.

Click here to view the menu and order

Shabbos Bistro
5 Iben Shaprut, Rehavia
Tel: 02-996 4469. whatsapp 054 8777347
Kashrut: Badatz Eida Charedit, kehilot, Agudat Yisrael Rav Nashshoni
Non kitniyot, non-gebrochts, Shmita Lchumra