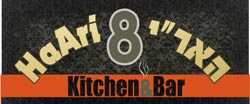 Dinner for Two at HaAri 8 Kitchen & Bar, Safed

HaAri 8 is a South American style grill with great meat, properly cooked to order, served promptly with a relish of delicious side dishes, and home-made liqueurs. The setting is a rustic, stone-arched century-old building, off the beaten path, yet a short walk from Safed's old city.

Choose from appetizers, like a Syrian kebob or eggplant, both served with tahini. Then sink your teeth into an entrecote or sirloin steak, St. Peters fish or maybe just a hot mushroom salad. Enjoy the unique home-made liquers such as fig arak and limoncello
.
The next time your in Safed, check out HaAri 8. You'll get plenty of mouthwatering meat for your buck!
Click here for more info.

HaAri 8
8 HaAri St., Safed
Tel: 04-6920033
Kashrut: Rabbanut Safed


Bid on a NIS 250 voucher at Haari 8 Restaurant.