About Caffe Yaffo
Turn to Caffe Yaffo when planning an event for a group of friends, a birthday party, a celebration, or a day with your office mates.
Caffe Yaffo has a private room that can accommodate up to 40 people. The room has a separate entrance. It is equipped with a projector, screen and sound system. This is perfect for private family events, meetings in a unique atmosphere, small conferences, as well as lectures, workshops and celebrations of all kinds. Events can be combined with musical entertainment, a tour of Jaffa and a festive meal. You can book an event package or just rent the space for your own planned event . The full restaurant is also available for events of up to 120 guests.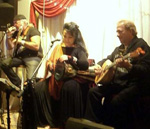 Caffe Yaffo will organize your event for you. They work together with tour guides, entertainers, and with local Jaffa theaters and performances. They will choose an appropriate tour guide, plan the rout of the tour, book a theater performance for you, selecting the right menu for your event at the restaurant and provide live music according to your taste. Caffe Yaffo offers a host of workshops (see below)

Caffe Yafo offers a fun and relaxed atmosphere, a delicious dairy menu and entertainment (optional). At Caffe Yafo you will find enthusiastic staff, a charming setting and a very good time will be had by all.


Workshops private room!
Caffe Yaffo suggests the following workshops to enhance your event. Contact Caffe Yaffo for more information.

Experiential Personal Styling Workshop: interactive, combines humor, original and fun.
"Laughter rate" Workshop: with a unique combination of group games, laughter exercises, rhythm and movement.
"Results oriented game" Experiential Workshop for Managers: Improving results in management and other areas of life through "Games".
"Lets see, there is wine" Experiential Wine Workshop: Taste it, Enjoy it and Know it!
Sushi fusion Workshop: With the chef Tzur Lifshitz who returned to Israel bringing his expertise after a stay of years abroad.
The cost of the room is 800 NIS + VAT for 2.5 hours.

"Jaffa, who touches it once, will love it forever"