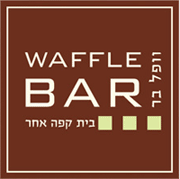 Dinner for Two at Waffle Bar, Jerusalem
Waffle Bar coffee shop offers light meals, sweets and great desserts. The cheerfully designed interior is warm, intimate, and a lovely place to sit. The cafe is on the level of similar restaurants abroad, and is pleasing to folks of all ages.

If you've got a sweet tooth, this is for you. Waffle Bar specializes in foods like Belgian Waffles and French Crepes with all of the toppings, and sauces. You can also find many lovely Italian dishes like Pasta in a cream sauce with two different kinds of cheese. Yogurt and pesto is a favorite, and focaccia with cheese.
Click here for more about Waffle Bar
Waffle Bar
41 Derech Bet Lechem, Jerusalem
Tel: 02-6730760
Kashrut: Rabbanut Jerusalem


Bid on a NIS 150 voucher at Waffle Bar Restaurant.