Café B'Alma is a coffee shop with two missions. The first mission is to provide good food in a pleasant atmosphere. The second mission is a lot more noble. On our visit we saw that the cafe achieves both missions.

A visit to Cafe B'Alma is a pleasant and relaxing dining experience. There is a full menu of the classic coffee shop fare plus some exotic dishes. This is vegetarian cafe with a separate vegan menu.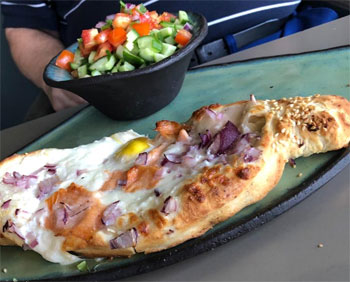 The Public Health Association together with the National Insurance have established Café B'Alma as a large-scale rehabilitation project for or integrating people with mental disabilities into the working world. Workers in the rehabilitation program and workers who are not work side by side in the kitchen, waiting customers, and performing all the various restaurant functions.



Entrecote
- 28 A.D.Gordon, Petach-Tikva 03-9342510
The new Entrecote Grill House Restaurant is a fresh and new dining experience. Under new management the dining area has been redesigned and is now a wide-open space with decorative lattice partitions between tables. There is new comfortable furniture, light fixtures, and wall decorations.




At the heart of the menu are the grilled meats. There is a wide selection ranging from burgers and pargit to specialty meats grilled over coals. Under "Hot Grill" you will find chicken wings and pargit, etc., sausage, and more. The "Steak House" section lists higher end steak cuts priced by weight, and lamb chops.  The "Chef's Recipes" section lists some of the family's Caucasian dishes, as well as the Israeli favorites: chicken schnitzel, chicken livers and hamburgers.


Ra'anana

Bread and Breakfast is located in Raanana's Giron Center on Jabotinsky Street. The restaurant is large and inviting, with one hour free underground parking.

Bread and Breakfast offers breakfast all day long. There is a fine selection of foods from breakfast right through dinner. If you do not want the typical Israeli breakfast there are sandwiches, salads, quiches, or tasty, frothy fruity drinks.
Take your winning voucher, visit this restaurant and write it up for eLuna.com. If we publish your write up you will receive a prize at this restaurant.

Submit your write up to us at admin@eLuna.com.

The Raanana branch of this popular chain is the second kosher branch and it is certainly one of the most pleasant. There is ample seating indoors in the sleek and modern restaurant and very comfortable and spacious seating outdoors on the covered deck. There is very convenient underground parking during the day and street parking at night.

The menu includes breakfasts, salads, toastim, sandwiches, quiches, and other dairy delights. Be sure to enjoy a cup of delicious Cafe Neto coffee right along with your sandwich or salad. And if you are so inclined, the restaurant has yummy cakes and baked goods in a display case, just waiting for you.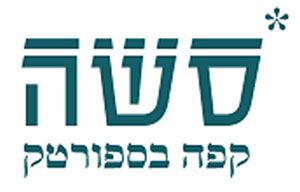 Sasha
- 35 Sasha Argov St, Ra'anana 09-0747965
Sasha is a charming dairy neighborhood cafe/restaurant in Neve Zemer. The restaurant has light and cheerful indoor seating and outdooor seating facing gushing fountains. The menu starts with light or full breakfasts, and goes on to salads, sandwiches, pasta dishes, pizzas and more. For a full meal, Sasha offers salmon dishes and denise. You don't want to miss the desserts at this lovely dairy restaurant.

The beautiful display of pastries and flowers that you can purchase for home adds to the charming atmosphere of this restaurant.
Rosh Hanikra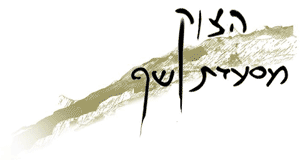 Hatzok
- Rosh Hanikra, Rosh Hanikra 04-6016849
Hatzok "The Cliff" is a kosher chef restaurant at Rosh Hanikra, Israel's northern most location on the Mediterranean coast. Aptly named, Hatzok restaurant is in a tourist center on the cliffs with a spectacular view and a pleasant modern interior.

Hatzok Restaurant offers a fine Mediterranean-style menu featuring a variety of meat, fish and vegetarian dishes, Maor and Eric use only the freshest raw ingredients to create a rich variety of high level dishes. Your visit to Hatzok restaurant will be unique, adventuresome and a rewarding culinary experience.


Tel-Aviv/Jaffa

Bakers
- 3 Nafcha St, Tel-Aviv/Jaffa 03-6771770
Baker's is a French patisserie in the heart of Tel Aviv, specializing in yummy breads, baguettes, pastries and croissants. These beautiful delectables are handmade, in house, under the baton of pastry chef and restaurant partner Alex.

French folks from far and wide flock to Baker's Patisserie for the real thing. Time Out Tel Aviv magazine numbers Baker's among the 10 best patisseries in Tel Aviv, kosher and non-kosher. Achbar Hair called Baker's the best croissants in Tel Aviv. Click here for more info.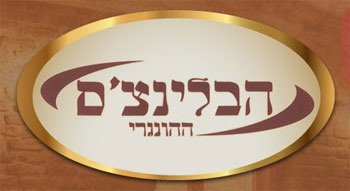 Hungarian Blintzes is a specialty restaurant for just that - Hungarian style blintzes.
What makes them Hungarian?
How about the old-world decor, with colorful hand-decorated tablecloths, or the generous use of Paprika, the Hungarian spice. Dozens of strains of paprika are grown in Hungary and exported to the world.
How about goulash blintzes (dairy)? Top these off with cheese or cream.

Enjoy soup and veggie blintzes for your main course and hot or cold sweet blintzes dessert. This is a family-friendly restaurant with reasonable prices and generous portions. Great for sharing.
La Lasagna
- 177 Dizengoff St, Tel-Aviv/Jaffa 03-5230037
Talk about authentic! At La Lasagna you can enjoy delicious dishes, rich in Mediterranean flavors and full of Italian secrets. You can enjoy this great authentic Italian experience in the heart of Tel Aviv. In addition to great food, La Lasagna offers a warm and welcoming, relaxed and informal environment.

Lasagna may be the namesake, but the restaurant offers many other Italian dishes. There is pasta with sauces, and delicious looking pizza. Don't hesitate to take your children to La Lasagna which is a great family restaurant.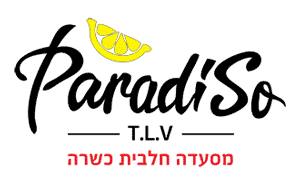 The kosher Paradiso Sarona Cafe stands out among the other Sarona eateries, as it is one of the only restaurants with a kashrut certification. The restaurant is located on the periphery of the Sarona campus, away from the hub-hub of the restaurants in the center of the campus.
Paradiso Sarona Cafe offered a pleasant respite when you visit Sarona. The cafe offers a variety of dairy dishes, from breakfast through pasta meals, pizza and sandwiches. It is perfect for a light snack, a light dairy dinner or a full fish meal. Bring the kids. There is something for everyone.
Zichron Yaakov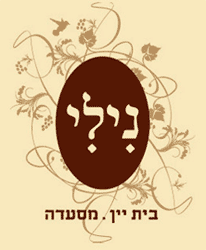 Nili Wine Bar and Restaurant is one of the most inviting restaurants on the midrachov - the central pedestrian mall of Zichron Yaakov. Nili attracts a variety of customers and everyone will feel comfortable.


Breakfast is served from 8 till 12 noon. A separate full dairy menu is available only from 12:30pm. The breakfast menu offers 3 varieties of shakshuka, two breakfast combinations with eggs, salads, grains, breads, coffee and drinks of different types. That's what I call breakfast.

At 12:30 Nili opens their full dairy menu of dishes for lunch and the rest of the day/night. This includes a long list of dairy specialties and lovely sushi as well.