Israeli Steakhouse Restaurants
The Steakiya is a classic Mediterranean grill meat restaurant. This model was once the most common restaurant type in Israel. These days you have to search between all the high end restaurants to find a simple, family style grill restaurant. This list will help direct you to the best kosher grill restaurants in Israel.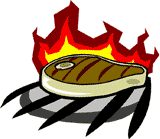 Start with a table full of salads served with fresh hot pitot baked in a taboun oven or roasted on the grill. Nothing is as good as those pitot, thin and crusty with burned spots where the dough touches the oven. Salads usually include tahina, tabouli, carrot salad, and in many restaurants a more exotic selection. These opening salads and pitot are often included in the price with your main course. There is a nominal fee for diners having just the salads without a main course.

Main courses are a list of grilled meats. Some are on skewers and some are whole meat fillets grilled on the fire. The main courses are served with a side dish of grilled vegetables or chips.