About Sushi
If you're not already a sushi fan, you have probably at least heard of,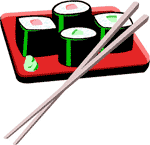 wondered about, or been intrigued by this unique food. You may have rejected the idea of eating sushi as too foreign or exotic, and the idea of eating raw fish - not big in Jewish cuisine - too far removed from the familiar. Before you exclude this specialty from your dining pleasure, let me offer some simple explanations of what sushi is made of, how it is prepared and how the people who do love it feel about it.

See more about Kosher Sushi...