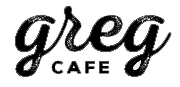 Dinner for Two at Greg Cafe
Mamila Mall, Jerusalem

Greg Cafe is a dairy restaurant on the second floor of the Mamila mall. The atmosphere is relaxed and comfortable, the food is good and the service is exceptional. The menu offers breakfasts, salads, sandwiches, Italian dishes, lunch, vegan dishes, health drinks, wine, and alcohol.

In addition to standard dairy dishes, Greg offers something special in each category. There are a large number of vegan dishes. Asian dishes appear in various sections.

Click here for more info

Greg Cafe
Mamila Mall, Jerusalem
Tel: 02-6254567
Kashrut: Rabbanut Yerushalayim Mehadrin
Bid on a NIS 175 voucher at Greg Cafe Mamila Restaurant.