Eluna Auction #30793 Comedy for Koby Live
30/09/2023 13:00:55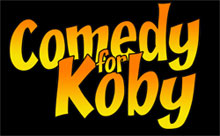 Live Comedy for Koby Standup Comedy Performance.

Comedy for Koby is one of the great successful English language performances in Israel. Year after year for more than a decade top American comics have brought laughter to audiences in Israel and support for the Koby Mandell Foundation.

Back on the stage for live performances, host Avi Liberman and Elon Gold will have you rolling in the isles. This is refreshingly clean comedy, appropriate for all audiences.

Three performances on Chol Hamoed Sukkot.
This auction is for one pair of tickets valued at NIS 260 for the performance in Herzlia or Tel Aviv. You will receive a code to be entered on the Comedy for Koby tickets purchase page.


Click here for more information about the shows.



Bid on this auction valued at NIS 260.
| | |
| --- | --- |
| First Bid | |
| Current Bid | |
| High Bidder | |
| Bid Increment | |
| Auction End Date | |
| Remaining Time | |
| | |