Eluna Auction #31022 Shabbos Bistro
11/12/2023 20:56:19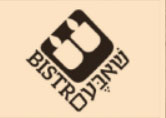 Shabbos Bistro is the place to buy truly delicious take away food in the authentic Ashkenazi tradition. These are the flavors of the "heim" if your ancestry is Eastern European. Chef Shlomo Rosenblum comes to Shabbos Bistro with a wealth of experience in the food industry. Manager Malkie couldn't be more charming and helpful.


The Shabbos Bistro signature dish is their home made cholent. There are 5 types of cholent. A refrigerated cabinet holds a great variety of packaged foods. There is Chicken soup with a separate container of fresh homemade thin noodles or a container of kneidelach. The potato kugel is light on the pepper. The more peppery Yerushalmi noodle kugel is sold in individually wrapped wedges cut from a large kugel cake. Herring and P'tcha are not to be missed. The cole slaw and cucumber salad are special..

Shabbos Bistro is open on Thursday and Friday only. On Thursday you can buy take away and enjoy the Shabbos food in the no-frills Shtissel-style restaurant open from noon till 2am.Friday it is just take away. The voucher can be used for either sit-down at the restaurant on Thursday or take away.

Shabbos Bistro
5 Iben Shaprut, Rehavia
Tel: 02-996 4469. whatsapp 054 8777347
Kashrut: Badatz Eida Charedit, kehilot, Agudat Yisrael Rav Nashshoni


Bid on a NIS 250 voucher at Shabbos Bistro Restaurant.
| | |
| --- | --- |
| First Bid | |
| Current Bid | |
| High Bidder | |
| Bid Increment | |
| Auction End Date | |
| Remaining Time | |
| | |