Eluna Auction #31512 Dinner for Two at AlaEsh Restaurant Modiin
30/09/2023 13:10:13


Dinner for Two at Ala'Esh Modiin

Ala'Esh is a quality meat restaurant. The big sellers are the shipudim (skewers) but meat choices range from burgers to steaks. The menu also offers grilled fish and several all-vegetable dishes. All of these are grilled over coals giving them their exceptional flavor.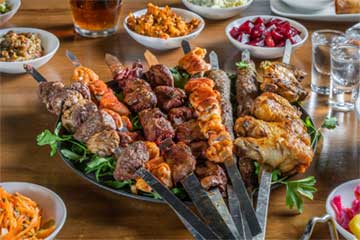 This is a comfortable well run restaurant with delicious foods, generous portions, excellent service and reasonable prices. Highly recommended.
Click here for more info

Ala'Esh House of Meat
13 Hareches Blvd., Ligad Center, Modiin
Tel: 08-6658899
Kashrut: Rabbanut Modiin

Bid on a NIS 250 voucher at AlaEsh Restaurant.
| | |
| --- | --- |
| First Bid | |
| Current Bid | |
| High Bidder | |
| Bid Increment | |
| Auction End Date | |
| Remaining Time | |
| | |