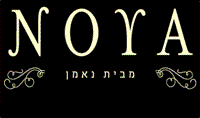 Dinner for Two at Noya Restaurant, Jerusalem
NOYA restaurant is located in a renovated historic building on Shlom Zion Hamalka Street, the heart of Jerusalem, a short distance from the Old City. The restaurant offers high quality Kosher Mehadrin cuisine, a unique combination in Jerusalem.

Chef Gindi combines the flavors of French and Mediterranean cuisine in a unique and original way. The menu offers a variety of excellent appetizers such as Baked Eggplant or Carpaccio. The main courses include meat, lamb, and fish selections. Menu highlights include: Lamb Chops, Stuffed Cornish Hen, and delicious Sea Bream.
Visit Noya for quiet elegance, a pleasant atmosphere, combined with courteous and professional service.

For more on this restaurant
Noya Restaurant
3 Shlomtzion Hamalka St. Jerusalem
Jerusalem
Tel: 02-6257311
Kashrut: Rabbanut Mehadrin
Bid on a NIS 350 voucher at Noya Restaurant.