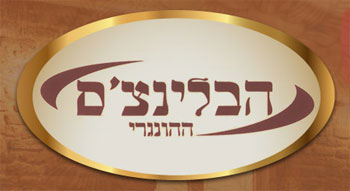 Dinner for Two at Hungarian Blintzes Restaurant, Tel Aviv
Hungarian Blintzes is a specialty restaurant for just that - Hungarian style blintzes.

What makes them Hungarian?
How about the old-world decor, with colorful hand-decorated tablecloths, or the generous use of Paprika, the Hungarian spice. Dozens of strains of paprika are grown in Hungary and exported to the world.
How about goulash blintzes (dairy)? Top these off with cheese or cream.

Enjoy soup and veggie blintzes for your main course and hot or cold sweet blintzes dessert. This is a family-friendly restaurant with reasonable prices and generous portions. Great for sharing.
Click here for more info.

Hungarian Blintzes
35 Yirmiyahu Street, Tel-Aviv
Tel: 03-6050674
Kashrut: Rabbanut Tel Aviv, Dairy, Vegetarian


Bid on a NIS 200 voucher at Hungarian Blintzes Restaurant.