Kosher Cooking
| | | |
| --- | --- | --- |
| Joy of Cooking, Jamie Geller | The Challah Book. Rochi Pinson | |
For Pesach
| | | |
| --- | --- | --- |
| | | |
| The Pesach Kit | | |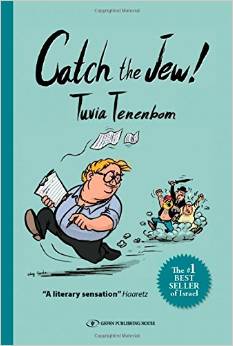 Catch the Jew
A Cultural Journey into the Promised Land. Tuvia Tenenbom. Softcover

Catch the Jew! recounts the adventures of Tuvia Tenenbom, who wanders around Israel of our time as"Tobi the German." In the course of numerous interviews Tuvia extracts information, sentiments, hidden theories and delusional visions motivating the miscellany of peoples forming the present-day Holy Land.

By turns poignant, enraging, and laugh-out-loud funny, this unique travelogue lays bare the intensity of this turbulent land in an unprecedented, eye-opening education, person by person, city by city, and meal by meal. You will never look at Israel the same way again.

More about this book



Steamy Kosher Books
from our favorite rabbi ...
Known internationally as Rabbi Shmuley, the rabbi is the author of more than a dozen relationship books that merge spirituality and sex. The Washington Post called Rabbi Shmuley "Dr. Ruth with a yarmulke."
Here are three books by Rabbi Shmuley Boteach. Buy The Blessing of Enough and get either of his other two books, free.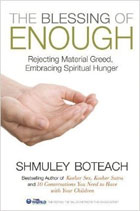 The Blessing of Enough
Rejecting Material Greed, Embracing Spiritual Hunger
. Rabbi Shmuley Boteach . This World: The Values Network . Paperback. NIS 150
The newest book from Rabbi Shmuley Boteach addresses the descent into feelings of inadequacy, material greed and the ailments of materialism, depression and existential emptiness. Rabbi Shmuley examines the spiritual root of America's chronic insatiability and offers philosophical and most importantly practicial ways in which to combat greed and lead a more holistic, spiritual and fulfilling life.
This unique book does not condemn the human need for expanision, but validates it. A meaningful life, says Rabbi Shmuley has spiritual ascendency over perpetual acquisition and meaningful relationships over competive one-upmanship.

More about this book.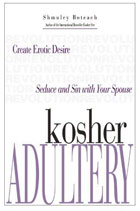 Kosher Adultery
Create Erotic Desire. Seduce and Sin with Your Spouse
. Rabbi Shmuley Boteach . Adams Media Corporation . Hard Cover. 336 pages. NIS 50
Rabbi Shmuley explains how you and your spouse can rekindle the fiery attraction and lust that existed before the marriage. By practicing the "Ten Commandments of Kosher Adultery," you'll learn to: * Create erotic desire in the mind * Look at your spouse with the eyes of a prowling suitor * Bring the danger of an affair into your marriage without being unfaithful and more...

This highly controversial and electric work challenges all past and contemporary scholarship about the marital bed.

More about this book.


eLuna Kosher Restaurants
* Kosher restaurants throughout Israel
* Discount coupons at all restaurants
* Monthly Specials
* Subscribe to our newsletter
Find a Restaurant