V'Higadeta L'Bincha
And You Shall Tell Your Sons. A Pesach Haggadah
.

Hard Cover, Tamid-Publishers
A beautifully designed Haggadah with black and white graphic pages. Every page offers a uniquely beautiful design and artistic presentation of the traditional text . Each page is different, each is individually designed, and each is a work of art, celebrating the Hebrew language and its hidden mathematical codes. The Haggada contains an essay explaining this concept,
More on this Haggadah.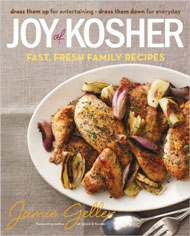 Joy of Kosher
Fast, Fresh Family Recipes by Jamie Geller
Hard Cover, 362 pages + glossary and index
Joy of Kosher contains 100 different original recipes with tips on dressing the dish up or down, time savers, variations, substitutions to make it parve, and pair it with other foods. That adds up to a lot more recipes.

Not just a kosher cookbook, Joy of Kosher is a Jewish cookbook. In her chatty relaxed prose style, Geller focuses on our Jewish lives and our values: family, the kitchen, Jewish holidays and foods associated with the Jewish experience, Get ideas for Mishloach Manot on Purim. Recipes for Pesach are marked as such, with advise for substitutions for Pesach. A handy index shows the recipes.

More on this cookbook.